Hitman Sniper Android – Free download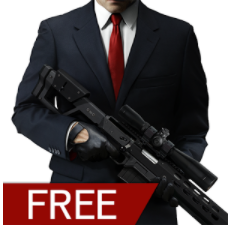 Square Enix's Hitman Sniper is currently free on the Google Play store. Download the apk for free while this offer lasts. It's not clear whether it is now permanently free or if it's just a flash sale so make sure you set it to install even if you cancel it – because then it's in your Google library for life 🙂
This is a fun and satisfying game so definitely worth the download (even if it's just for the zombie mode alone!). It's got 4.5 stars out of over 103,000 reviews which isn't half bad.
Here's the jargon from the Google Play Store page and take a look at the screenshots below too:
BECOME THE ULTIMATE SILENT ASSASSIN
Step into the shoes of Agent 47 in Hitman Sniper and discover the most compelling sniper experience on mobile.
TACTICAL MISSIONS IN MONTENEGRO
Hone your strategic skills and orchestrate the perfect assassination kill shot.
SURVIVOR CHALLENGE IN DEATH VALLEY
Non-stop action as the zombie hunter in a true test of your skills and speed of execution.
MORE THAN 150 MISSIONS AND 10 DIFFERENT CONTRACTS
Improve your skills for the perfect assassination as you uncover secrets and subterfuges.
16 UNIQUE GUNS
Eliminate targets, collect weapon parts and complete blueprints to unlock the most powerful guns.
COMPETE AGAINST YOUR FRIENDS FOR THE FIRST PLACE IN THE LEADERBOARDS
Boost your score and climb up the contract killer ranks to become the world's finest silent assassin.