The Sims Freeplay How To Have A Baby and Get Married (UPDATED FOR 2017!)
Tonight I've published an updated version of a video I made nearly 6 years ago. It was my most popular video on YouTube so I thought I'd spend a bit of time bringing a fresher and cleaner version to the masses.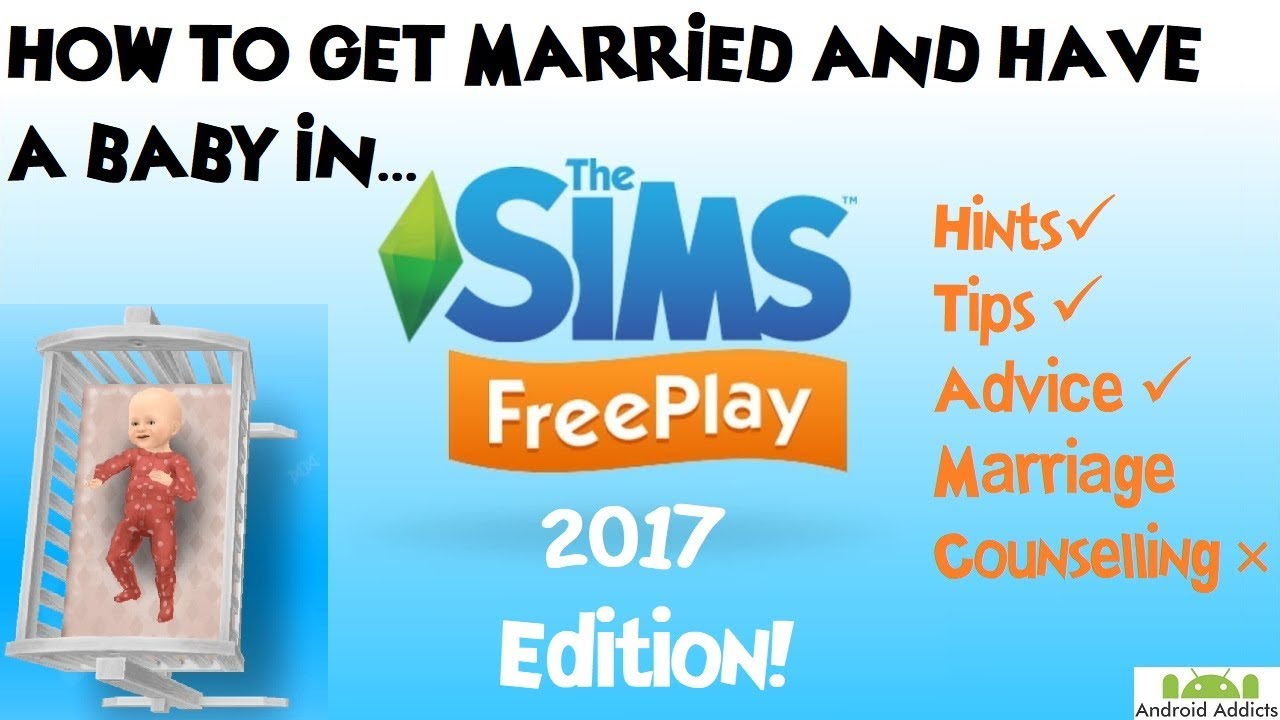 It's actually a lot simpler to achieve this goal in the newer version of Sims Freeplay and I have put down each step below the video so if you get stuck, just let me know.
The full steps are given below:
Buy a toilet
Use a toilet
You're now Level 2 + 1LP (Total 1LP)
Wash hands in sink
Expand a room (cost free)
Add flooring (cost free)
Add some wallpaper (cost free)
You're now Level 3 + 1LP (Total 2LPs)
Buy a lamp (cost free)
Move an object
Browse clothes in the wardrobe
Buy a garden patch (cost free)
Grow some bell peppers (cost free)
You're now Level 4 + 1LP (Total 3LPs)
Claim your Daily Reward
Collect revenue on the town map
Build a workplace (Fire Station) (cost free, finish instantly for 0LPs)
Get a Sim a job at the fire station
Add a new Sim (cost free, finish instantly for 0LPs)
Inspire a Sim by using a cupcake
Place a clock from the inventory
You're now Level 5 + 1LP (Total 4LPs)
Open Simtracker
Call a Sim over
Switch Sim selection
Be funny to a Sim
Build the park (Requires: 4 mins, $500, 2 sims – (Requires 1LP to skip))
You're now Level 6 + 1LP (Total 5LPs)
Visit Mysetery Box Shop (+1LP (Total 6LPs)
Open Mystery Box
Watch Sim Chef on TV (Requires: 3 mins)
Use second Sim to call "On hold to tech support" (Requires: 6 hours (5LPs to skip)
With free Sim 'Buy a Stove' (Requires: $350)
Cook bacon and eggs on a stove (Requires: 5 mins, $27)
Eat bacon and eggs (Requires: 10 mins)
Go to the town map and click in the top left to watch some adverts (to get free $$$ and XP while you wait)
Wash the dishes
Search bookshelf (Requires 2h 42 mins (2LPs to skip))
I would just wait for these two to finish rather than using LPs to skip
Build a Furnished TownHouse (Requires 30 mins. $2,500)
Open up next day and you'll receive another LP (Total 7LPs)
Buy a toaster (Requires $750)
Cook cheese and tomato on toast
Eat cheese and tomato toast (Requires: 10 mins)
Play The Sims on a computer (Requires: 1 hour, $650) (Weekly Task)
Free Sim 'Rest your eyes on a couch'
Change a Room's Floor (Weekly task)
Start making two of your Sims friends by "Being Nice" – Aquaintence, Friend, Good Friend)
You will have a generic "Live Event" (mine was "French Romance" which lasted 9 days. I had to add Arts and Crafts, buy candles etc to gain money and XP. Just complete whatever task you have at the time to add money into your pocket and XP to level up to level 7.
You're now Level 7 + 1LP (Total ~6LPs)
Complete the "Money grows on trees" tasks:
Plant some carrots
Watch a Documentary (Required: 1 hour)
Now that you're "Good friends" you should start being "Romantic" to each other and you'll become "Best friends" and then "Budding Romance"
You then have time to complete "Love is in the air" to get on your way to getting married
Have 2 Sims watch a movie (Required: 1 hour 43 mins, use 1LP to skip)
Keep being romantic until you form a "Dating relationship"
Quick rinse in a shower (note you can use any Sim for this)
Get 2 Sims in one house
Have a Sim be romantic with another Sim
Make espresso
Flirt with another Sim (Requires: 5mins)
Make a Sim kiss another Sim on the cheek
Send a Sim home
Have a catnap (Requires: 27mins)
Grow some onions etc to get some money and XP, you should be able to reach Level 8. Come back the next day if you wish so you get an additional LP (not required but it's what I did)
You're now Level 8 + 1LP (Total ~9LPs)
Have 2 Sims in the same house
Be romantic to another Sim
Whilst this is going on you can use your spare Sim go and visit another Sim's town to get some experience and money
I didn't play for a few days so ran out of time to complete me "Love is in the Air" quest. You can however proceed to getting married.
Become Partners (keep being romantic to each other)
Woohoo!
Buy 2 roses (Required $200 ($100 each)
Get engaged (Free eternity ring acquired)
Propose Marriage
Call about engagement (Required: 4h 30 mins (use 4LP to skip)
Make 2 engaged Sims move in together
Have 3 Sims in the same house
Woohoo! And Me Romantic until you get the option to "Get Married"
Be nice to a Sim
Expand or create a room (Requires: ~$172)
Spend $450 on wallpapers and flooring
Read 'Better farms and cradles' magazine (Requires: £600 for magazine pile, 9 mins)
Have a double shot of coffee
Watch Dr. Cots on TV (Requires: 18 mins (use your spare Sim))
Add New Sim to your town so you have 4 Sims. You don't need to build a new house – you should see one of your houses' icons flashing with a green bubble with a picture of a silhouette of a person. Click on it and click Add Sim.
Build the Children's Store (Requires: 1h 15 mins, $1,000, 4 Sims (use 1LP to complete))
Buy a crib (a 'cot' to us UK folks) (Requires $2,000)
Add a baby (Requires: 24 hours or 23 LPs)