Samsung Galaxy Buds – delay in the UK
It seems that the huge popularity of the Galaxy S10 in the UK has caused a major shortage of Galaxy Buds. This is causing big delays in delivery for UK customers which is causing a bit of upset. I understand there was a 'within 30 days' period of time where the Buds should be delivered but I think there should have been some better communication put out by the team to let people know what was up.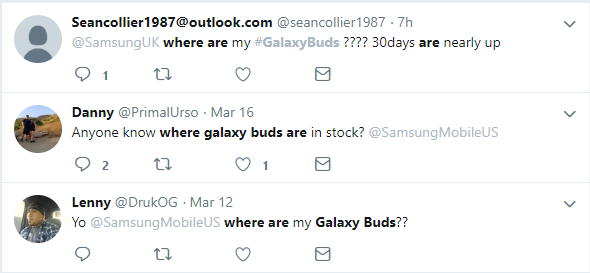 If contacted Samsung and had a somewhat generic response which is a bit of a shame:
We are contacting you in regard to your claim.
The fulfillment team is working to dispatch your reward within 30 days from the day of validation.
As your claim was validated 19/3 there could be a few more days before it will be dispatched.
Once a tracking ID has been created you should receive an email from DX.
After receiving the email from them, your reward should be with you within 48 hours.
Hopefully this answers your question.
Should you require further assistance please do not hesitate to contact us.
Kind Regards,
Christina @ Samsung Promotional Support Team
I'm still undecided whether I will be using or just selling mine when they arrive. I can't say they're really something I would use frequently so I think they'd be a bit of a waste – especially as you can't really sell them once they've been used 😅
If you want to contact Samsung about the delay be sure to drop them an e-mail at the following address:
[email protected]
Did you put in your claim for the Galaxy Buds? Have yours arrived and how are you finding them?